The Complete List of US City Data
– All In One Place
Contains all 45,536 incorporated cities in the United States.
Includes linked counties, states, ZIP codes, latitude-longitude, populations and more.
Data in Excel, CSV and SQL formats
Fully updated for Fall 2018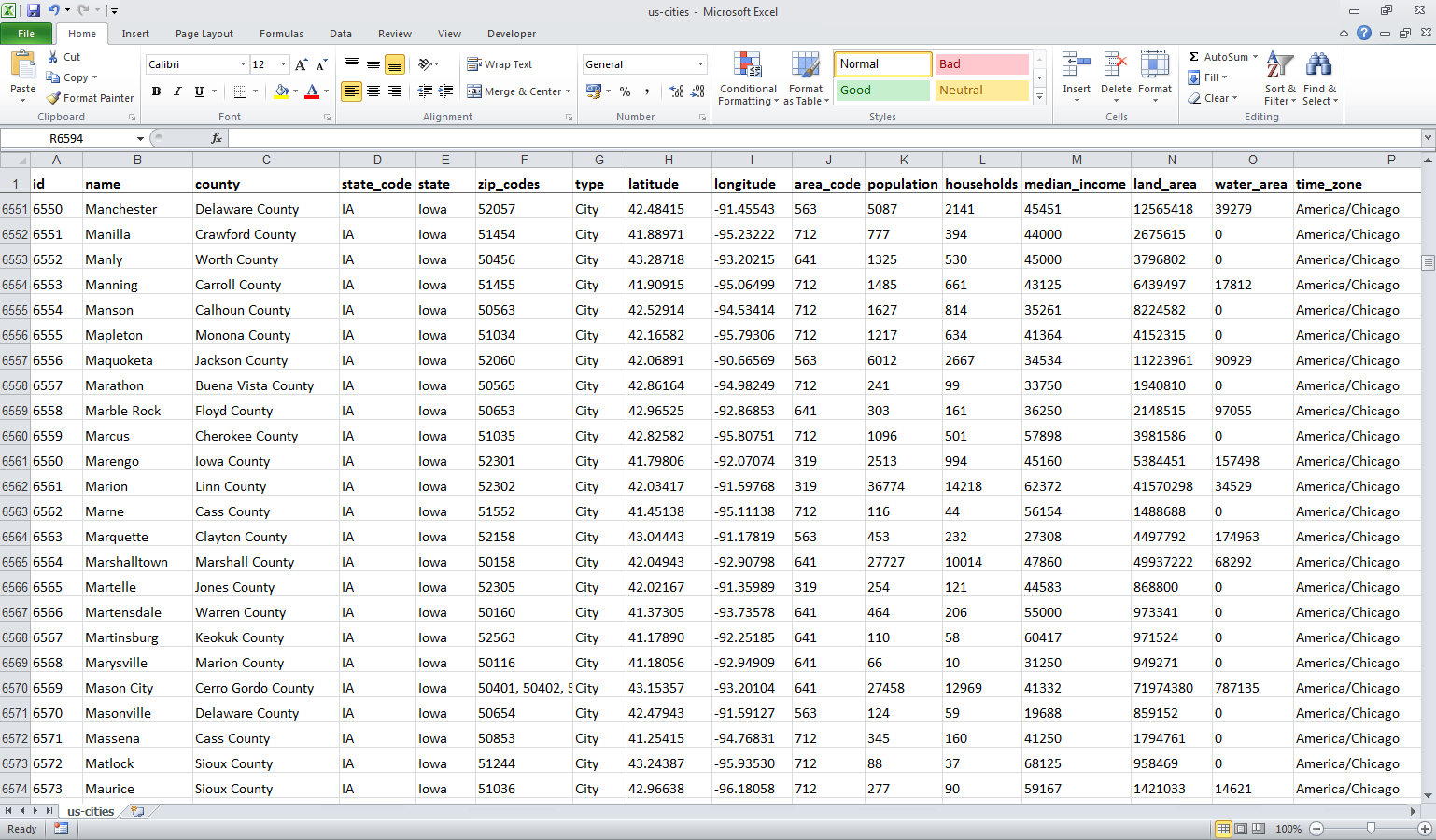 What's included in the database?
City name
County
State
State code
ZIP code
Area code
Latitude & Longitude
Population
Households
Median income
Land area
Water area
Time zone area
Type
---
Key information
Number of towns:

45,536

Last updated:

October 2nd, 2018

Update frequency:

Quarterly

Coverage:

All 50 states plus Washington DC

Data formats:

CSV, SQL and Excel

Data size:

8.4MB (zipped)

Language and Encoding:

en-US, UTF-8

Supply:

Online download
Over 14,000 hours of time saved
No one wants to spend hours – or even days – manually researching, scraping data sources and doing complex conversions just to get a list of cities. Our database is designed so you can simply download the information you need and get to work in minutes, freeing you up to focus on what's actually important to you. Since we launched in 2011 we estimate that our database has saved businesses and individuals over 14,000 hours of manual work.
Comprehensive, accurate and reliable
You can be confident that the data is correct. Our list uses the latest information from official sources only — including the U.S. Census Bureau, U.S. Geological Survey and American Community Survey — and all currently incorporated cities, towns, villages, townships and boroughs in the United States are included. The database is completely refreshed every quarter and undergoes regression testing and quality assurance checks before each release.
Worry-free licencing
There are no limits on the number of devices or users, so you are free to work and grow without worrying about artificial ceilings. Our 'Business' package also allows you to use the data for business and commercial purposes with almost no restrictions. Take a look at the available packages.
---
Used by hundreds of businesses and individuals across the United States
Our list of U.S. cities is perfect for:
Location search and mapping functionality
Auto-fill and auto-complete boxes
Website localization
Marketing and advertising campaigns
Data verification and quality assurance checks
"I needed a list of cities that was accurate, cost effective and easy to consume. Your dataset provided this and came with scripts for loading into SQL without any extra work."

— Phil Breeze, Sepura
"The presence of zip, lat, long and population are excellent. We will probably implement geosearch, so having the data ready is great… This was a great purchase worth every penny."

— John Beavans, JobFinderUSA